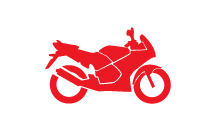 We hope you never have to report a claim, but in case you do here is how to let us know. Rest assured we will do all we can to get you back on the road and deal with your claim as soon as possible.
Reporting a new motorcycle claim
Please call 0344 381 4410. You will be connected to a team of claims handlers at 4th Dimension, who specialise in handling motorcycles claims from start to finish.
4th Dimension is a claims company run by the bike people for the bike people so you'll be in great hands, should you be involved in an accident. This means that 4th Dimension understand the kind of claims you need to make - they know a swinging arm from a hero blob, and they know what goes wrong with bikes.
Their lines are open 24/7, and once you've called in you'll get regular updates by SMS, email or phone.
What do I do if I have an accident?
Have you stored the reporting number in your mobile phone?
Always STOP!
Do no admit liability
Exchange insurance and personal details with any third parties
Contact us to report the claim
If you have any further questions we may have already answered them in our frequently asked questions.